ATLANTA – August 22, 2016) – Dr. J. David Allen has been named to the Georgia World Congress Center Authority (GWCCA) Board of Governors. Allen accepted the appointment in a ceremony with Governor Nathan Deal at the State Capitol on August 17.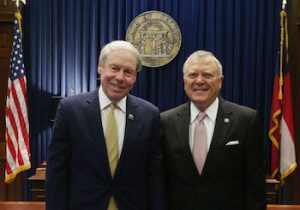 "I'm honored to be joining the GWCCA in its efforts to generate business that fosters economic development to better the lives of all who call Georgia home," said Allen. "I look forward to helping further initiatives that support the continued prosperity and growth of the City of Atlanta and the State of Georgia."  
As a member of the Board of Governors, Allen will be jointly responsible for the management of GWCCA business and affairs, including the development and operations of the Georgia World Congress Center, the Georgia Dome, Centennial Olympic Park and related facilities. The GWCCA is one of the top five largest convention destinations in the country and a leading sports and entertainment campus.
Recently, the GWCCA is overseeing the decommissioning of the Georgia Dome and the development of a new convention hotel on the Georgia World Congress Center campus.
Allen will serve on one or more special committees within the Board, to be designated in late August.
"We're pleased to welcome David to the Board of Governors," said David Allman, Chairman of the GWCCA Board of Governors. "His business acumen and leadership capabilities make him a great asset in helping us fulfill our vision in this time of great growth for the GWCCA."
Allen has demonstrated a longtime commitment to the City of Atlanta and State of Georgia. He currently serves on the Board of Trustees of Emory University, the Woodruff Health Sciences Board, the Emory Clinic and Emory Healthcare Boards and the Safari Club International Foundation Board. Allen is also a supporter of the Georgia Resource Alliance.
Allen is the founding and emeritus chairman of the Georgia Natural Resources Foundation, which supports the efforts of the Georgia Department of Natural Resources to conserve, protect and enhance the state's natural, historic and cultural resources. In 2015, he was selected as one of Georgia Trend's "100 Most Influential Georgians" for his work with the Foundation.
He has served as chairman of the Georgia Chamber of Commerce, a member of the Atlanta Rotary Club, a member of the Zoo Atlanta and Yerkes Primate Center Boards and a curator of the Georgia Historical Society.
A retired oral and maxillofacial surgeon with over 35 years of experience, Allen established a nine-location private practice, serving patients throughout the state of Georgia, before founding a healthcare consulting company in 2010. He has held the office of president over several healthcare-related organizations including the Georgia Dental Association and the American Board of Oral and Maxillofacial Surgery.
"For years, David has invested in the economic, scientific, conservational and cultural growth of our state, making him a natural choice for the GWCCA Board of Governors," said Frank Poe, GWCCA Executive Director. "We're happy to have him on board to assist the GWCCA with its vital work in the years to come."