This year's Mid-Winter meeting had record attendance with over 100 GSOMS members and 16 Exhibitors. There was standing room only as the meeting got underway at the Druid Hills Golf Club on Saturday, Feb. 22. GSOMS members came to hear Dr. Robert W. Emery speak on "X-Guide – Implants, Sinus Elevation, Extractions and more." Dr. Emery is a OMS surgeon in private practice in Washington, DC. He is also chief medical officer and founding partner of X-Nav Technologies. Demonstrations using X-Nav helped members understand dynamic navigation in the placement of dental implants.
| | |
| --- | --- |
| We also held our GSOMS business meeting. We thanked Dr. Manuel "Tony" Davila for serving as our 2019 President and welcomed Dr. Amy Kuhmichel as our incoming president for 2020. | |
2020-21 GSOMS Officers
President
Amy Kuhmichel, DMD
Vice President
Grant M. Hogan, DDS, MD
Past President
Alfred E. Pesto, Jr., DMD
Immediate Past President
Manuel A. (Tony) Davila, DMD
Treasurer
Michael M. Demo, DDS
Secretary
Alice Coker, DMD, MD
Member at Large
Shahrokh Bagheri, DMD, MD
Member at Large
Richard C Manus, DMD
AAOMS Delegate
Jeffrey D. Schultz, DDS
AAOMS Delegate
Vincent J. Perciaccante, DDS
AAOMS Alternate Delegate
Glenn Maron, DDS
AAOMS Alternate Delegate
Robert C. Wunderle, DDS
Thank you Exhibitors
We had 16 exhibitors share their products and services with us. Thank you Ace Surgical Supply, Advantage Technologies, Carecredit Patient Financing, Carestream, Depuy Synthes, Firm Media, Georgia Anesthesia LLC, KLS Martin, MaxilloSoft, Maxxeus Dental, Nobel Biocare, Oral Surgery Partners, Pro Med Sales, Salvin Dental Specialties, Stryker, and X-Nav Tech.
New Members
Congratulations to our 6 new members! We are happy to welcome Drs. Sanjeet Chaudhary, Don Phillips, Jr., David Davis, Tim Jaeger, Josh Levy, and Karin Davis to GSOMS.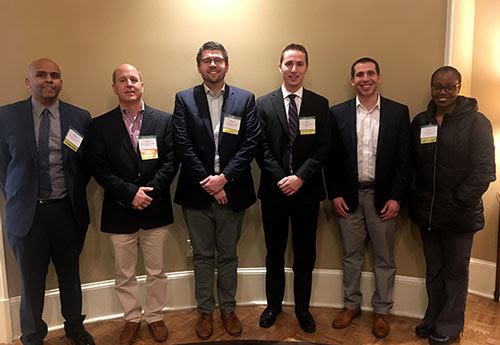 Save the date for our 2020 summer meeting:
August 14-16
Ritz-Carlton Lake Oconee
Greensboro, GA.