2017 Annual Meeting Highlights
February 18, 2017
Over 75 GSOMS members, guests and residents attended the 2017 Annual Meeting at the Druid Hills Golf Club. Our scientific program included: "Hot Off the Press: Updates on the Newly Released AJCC Staging Criteria and WHO Classifications — What You Need to Know" presented by Susan Muller, DMD, MS; "CBCT in OMS: Join the Revolution!" presented by Dania Tamimi, BDS, DMSc; and "Cross-sectional Imaging of the Oral Cavity and Beyond: Practical Applications for the OMFS"  presented by Ashley Aiken, MD. We also offered an ACLS Course for those members who needed recertification.
Speaker, Dr. Dania Tamimi

 Speakers, Dr. Dania Tamimi
(left) and Dr. Ashley Aiken (right)  
Speaker Dr. Susan Muller (R)
and Board Member Dr. Neysa
Alice Cooker (L) 
Dr. Roger Meyer Awarded the John Feihaut Lifetime Achievement Award 
Dr. Jeff Prinsell presented the "Freihaut Lifetime Achievement Award" to Dr. Roger Meyer. The late Dr. John Freihaut was a skilled OMS and tireless proponent of dentistry. The GSOMS established this award to honor GSOMS members who, like Dr. Freihaut, have provided outstanding contributions through patient care, education, teaching, research or community service, and whose lifetime of service deserves special recognition. Dr. Meyer served on the faculty of several dental schools and OMS residency programs, including at MCG and Emory as Chair, before entering private practice in Marietta. He has authored over 100 scientific articles and 14 book chapters on numerous OMS topics. He is an accomplished surgeon, probably best known as an internationally acclaimed expert on peripheral trigeminal nerve injuries.
Dr. Roger Meyer, GSOMS
2017 John Freihaut Lifetime Achievement
Award Winner and John Freihaut's
son Michael and widow Janine Bethea
Dr. Roger Meyer (left) and
Dr. Jeffrey Prinsell (right)
We also congratulated Dr. Jeffrey Prinsell
for his leadership as president of the GSOMS and
passed the gavel to incoming president
Alfred Pesto, Jr., DMD.

Incoming President Dr. Al Pesto
and Outgoing President Dr. Jeffrey Prinsell
GSOMS Business Annual Meeting
During the GSOMS Business Meeting new officers were elected to serve:
| | |
| --- | --- |
| President   | Dr. Al Pesto |
| Vice President   | Dr. Manuel Davila |
| Treasurer | Dr. Amy Kuhmichel |
| Secretary | Dr. Grant Hogan |
| Members at Large | Dr. Alice Coker (2019) and Dr. Michael Demo (2018) |
| AAOMS Delegates | Dr. Vincent Perciaccante and Dr. Jeff Schultz |
| Alternate Delegates | Dr. Solon Kao and Dr. Robert Wunderle, III |
---
A Bylaws Amendment regarding Life Members:
The following resolution was passed regarding Life members:
"Life members still practicing will be assessed an annual administrative fee of $50.
---
Thank you Exhibitors and Sponsors!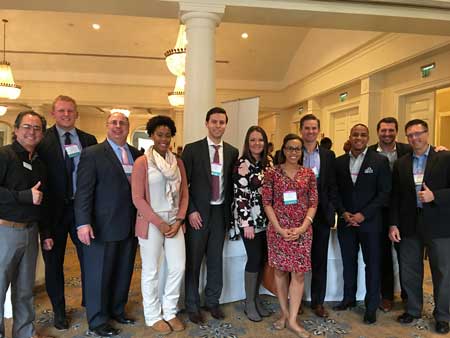 Carestream Dental
KLS Martin
Nobel Biocare
Oberman Law
Orascoptic
Practice Quotient
ProMed Sales
Stryker
Zimmer Biomet